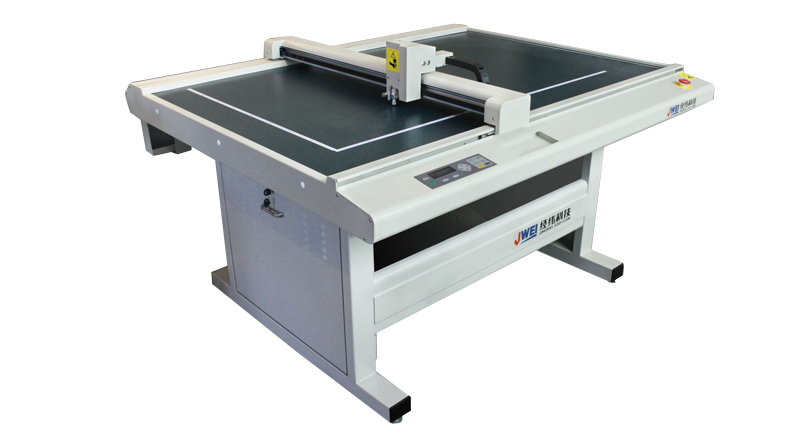 ➤

 

Video
Enjoying the benefits and value delivered by JWEI LSC-1509 die-less digital cutter and creasing table, stakeholders in small-run color boxes, carton, cardboard box, adhesive industry capture the opportunity to facilitate the digital transformation and open up a new market that didn't exist before. LSC-1509 die-less digital cutter matches small-run, high-quality, quick-turnaround flexible materials market such as making efficiently boxes, cardboard, sticker, PVC board etc.
➤

 

Advantages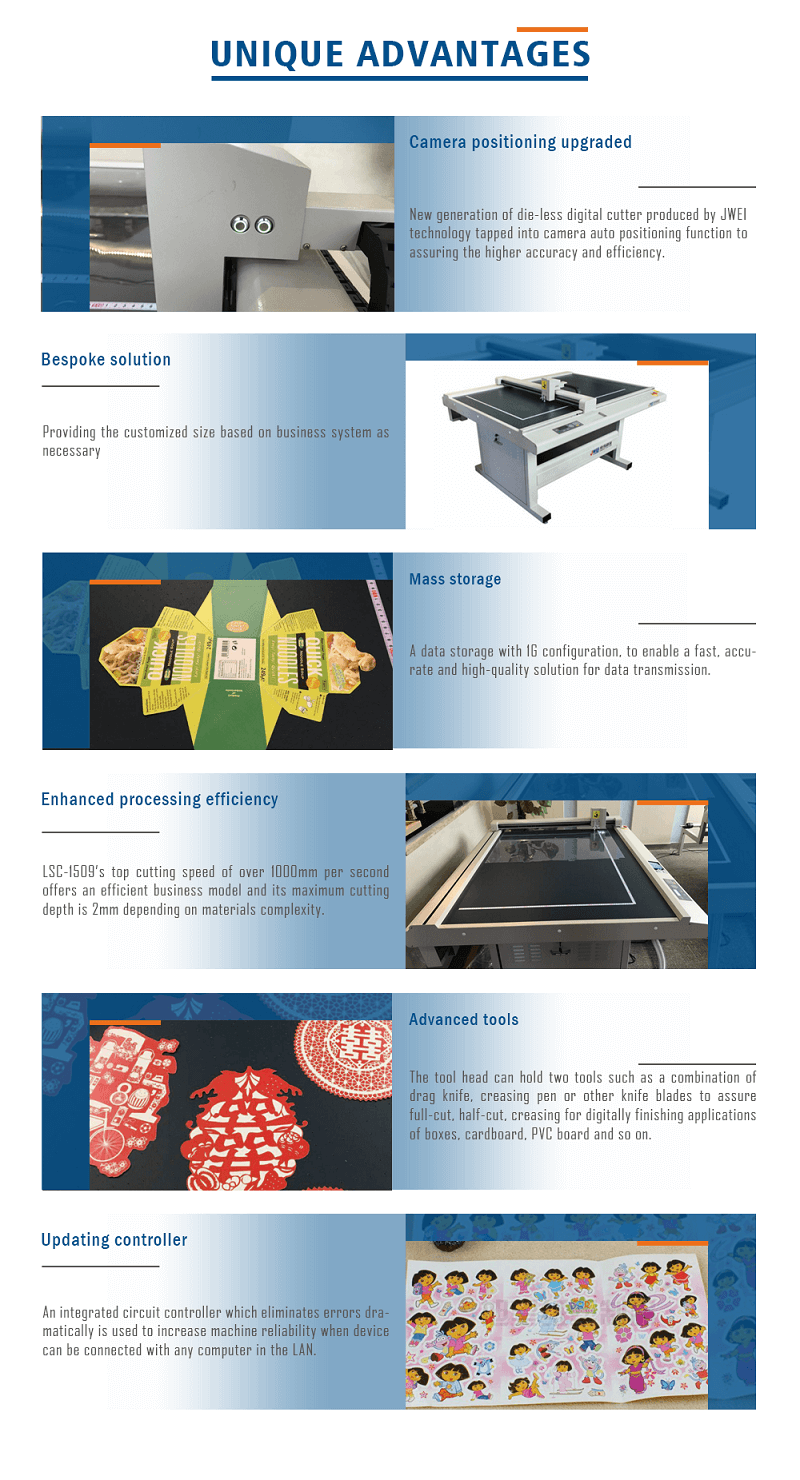 ➤

 

Video
LS series cutting plotter is a model with superior speed and accuracy. Supported by a DSP control center and digital servo motor, it wins the market by its best cost-performance. The LS series cutting plotter has two tool-holders on the head and is universal for inserts of cutting knifes, scoring tools or plotting pens. One cutting plotter can maximize the application range. The LS series cutting plotter is equipped with various kinds of cutting and impressing blades and can be used in the cutting, plotting and impressing of many materials such as PVC board, PP board and white card paper. The LS series cutting plotter helps you save time while reducing the cost. It is able to process cardboards, paper, PVC, film, sticker, etc. The maximum cutting depth is up to 2mm, depending on material density. The LS series cutting plotter is a CE certified product. We offer an English LCD menu. We welcome custom orders.
| | |
| --- | --- |
|   Function |   Thorough cutting/Kiss cutting/Creasing/Plotting/Lasor Locating |
|   Max. Speed |   Up to 1000mm/s |
|   Max. Cutting Depth |   ≤1.5mm(up to 1,000 gsm paper) |
|   Cutting Media |   Cardboard,PVC Board,kraft paper,Magnetic sheet,PET sheet,printing blankets,etc. |
|   Tools |   Gel-ink pen / Special tungsten carbide blade/ Creasing tool |
|   Media Fixture Method |   Vacuum suction |
|   Repeat Precision |   ≤0.1mm |
|  Programmable Resolution |   0.025 / 0.01 / 0.1 available |
|   Interface |   Ethernet port |
|   Buffer Memory |   1G |
|   Command Mode |   HP-GL compatible format |
|   Operational Panel |   Liquid crystal display panel with push contacts |
|   Transmission system |   Imported servo driver; synchronous belt |
|   Power Supply |   AC 220V +/- 10%, 50HZ / 60HZ |
|   Fuse |   2A、30A |
|   Working Environment |   10 to 35 deg.C |
| Â  Effective Cutting Area | Â  1350mm*750mm |
| Â  Machine size | Â  1870mm*1620mm*1000mm |
JINGWEI is a China-based cutting plotter manufacturer and supplier. We offer cutting plotters, paper cutting machines and architectural model making machines. Our high quality products are offered at competitive prices. Our company can supply the full chain of manufacturing cutting plotters and cutting systems right here in China. Our lower manufacturing cost saves your purchasing cost. More details of each product are shown on the description page.
Contact Form
Please fill all the texts in the fields